Central Broward Stadium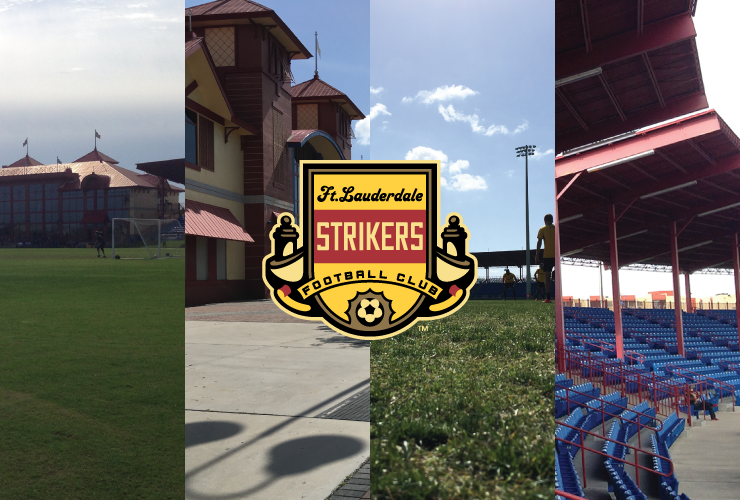 Built: 2007, $70 Million Facility (Renovated for soccer in 2016)
Capacity: 6,000 (Expandable to 20,000)
Field Surface: Natural Grass
Soccer Dimensions: 71 x 110 yards
Address: 3700 NW 11th Place, Lauderhill, FL 33111
Located in the heart of Broward County and easily accessible from anywhere in South Florida, Central Broward Stadium is the Strikers' new home beginning with our August 20 home match vs Ottawa Fury FC. Central Broward Stadium will offer fans a more intimate atmosphere and a modern stadium experience for Strikers matches.
Central Broward Stadium FAQ

Why are you moving?
Central Broward Stadium provides an extensive, immediate upgrade in facility quality for the club, across many areas. First and foremost, in fan experience and comfort, Central Broward Stadium features modern seating areas with a full roof to protect fans from the sun and rain we frequently receive in South Florida during soccer season. The roof and intimate capacity will also greatly improve the gameday atmosphere, creating a new home field advantage for the team that simply is not possible at Lockhart Stadium. Central Broward Stadium also features a permanent video replay and score board, modern, clean, and air conditioned restrooms, indoor luxury suite facilities and new, expanded locker room facilities for the team. The facility will also feature a permanent training field for the Strikers, and Central Broward Regional Park also features many amenities such as a water park, tailgate pavilions, and tennis, netball and basketball courts that will greatly expand the gameday experience for our fans.

Broward County have been tremendous partners in this initiative, and thanks to this partnership the club will be able to consolidate team front offices, technical staff, training facility and stadium into one location.
What about Lockhart Stadium?
Lockhart will always be the historic home of the Strikers, and we are not closing the door on a return to the stadium. As we await the outcome of the ongoing Schiltterbahn Waterpark developments at the site, we will explore our options at the facility with the City of Fort Lauderdale. You can also expect to still see the Strikers host international soccer matches and potentially other Strikers events at Lockhart Stadium.
Is this a long term move for the club?
While returning to a revitalized Lockhart Stadium remains a very realistic possibility for the future, there is also the potential to convert Central Broward Stadium into the permanent home of the Strikers, with the potential for additional modifications and upgrades to fully convert it into a true soccer specific stadium.
Central Broward Stadium was designed for cricket, won't the sight lines for soccer be bad?
The Strikers have worked very closely with Broward County to ensure the best possible field configuration for soccer at Central Broward Stadium. The pitch has been moved closer to the fans, resulting in sideline seating in the Main Stand that averages just 39 feet from the touchline, with the closest seats just 14 feet from the action. This compares favorably to Lockhart Stadium, where the closest seats are 32 feet to the touchline on the sidelines, and 42 feet from the endline behind the goals.

For Strikers games, there will be additional seating areas along the north sideline at Central Broward Stadium, offering the closest views of the game just steps from the touchline. For the first time in the modern era of the Strikers, seating areas encompassing the entire field will be available for every match.
How much are tickets at Central Broward Stadium?
Tickets for every 2016 Strikers match at Central Broward Stadium are $15 for the Main Stand and $25 for Club 77 Sideline seating. Tickets can be purchased at Strikers.com/Tickets, by calling 954.606.0400 or at the Central Broward Stadium box office on gamedays. To offer our fans the chance to experience every angle at Central Broward Stadium, all seating for 2016 Fall Season is general admission. All children 12 and under are admitted for FREE when accompanied by a paid adult. You can view a full seating chart below.


Is there accessible seating at Central Broward Stadium?
Accessible seating areas are located throughout Central Broward Stadium. Handicap accessible seating is avaliable in Row A of Sections W1, W5, W7, W9, W11, E1, E5, E7, E9 and E11. Additional accessible seating is available at the top of Sections W1, W4, E1 and E4, with elevator access to these areas located in the central fieldhouse.
I'm a Season Ticket Member, will my seats be transferred to a comparable area?
Season Ticket Members can sit in any seat at Central Broward Stadium. All seating for the 2016 Fall Season at Central Broward Stadium is general admission, however all 2016 Strikers Season Ticket Members have access to the Club 77 Sideline and exclusive Club 77 Party Deck areas in addition to Main Stand seating. Current 2016 Sideline Reserved Season Ticket Members will have the ability to reserve the specific seat(s) of their choice at any time during the Fall 2016 Season. You can email mtrevisani@strikers.com with your seat selection(s) at any time during the Fall 2016 season to lock-in your seat(s). We encourage Season Ticket Members to try out different areas of the stadium and send the club your feedback as we will be re-evaluating seating areas and pricing for the 2017 NASL season.
How much is parking at Central Broward Stadium?
Parking is complimentary for all Strikers matches at Central Broward Stadium.
How do I get to Central Broward Stadium?
Fans can enter the Stadium from the South, North and West via the State Road 7 entrance just north of Sunrise Boulevard. Fans traveling from the East can access the stadium via the Sunrise Boulevard entrance just east of State Road 7. A full map of Central Broward Regional Park is below.
What can fans expect on game days?
Central Broward Regional Park offers clean, expansive parking areas, permanent restroom facilities and pavilions for tailgating for fans arriving early.
Inside the stadium, the Strikers will strive to offer a game day experience that far surpasses anything our fans have experienced in the past. To the South of the Main Stand fans will find the Strikers Fan Zone with concessions, sponsor activations, and official Strikers Merchandise. Behind the Club 77 Sideline seating area on the north side of the stadium, the Strikers Kids Zone will feature interactive games and soccer fields for children. Gates will open at the same time as they do now, one and a half hours prior to kickoff (5:30 PM for a 7:00 PM kickoff).
I'm not convinced! I love Lockhart and I won't be going to see soccer at a cricket stadium!
We understand that moving from our historic home is a major change, and there may be some preconceived notions about the layout of the new stadium. However, we invite all of South Florida to see it for yourself and experience what Central Broward Stadium has to offer. We promise that the experience will be a night and day difference and the Strikers will do everything possible to ensure that there will be no better place to watch a soccer match in South Florida than Central Broward Stadium.