Partners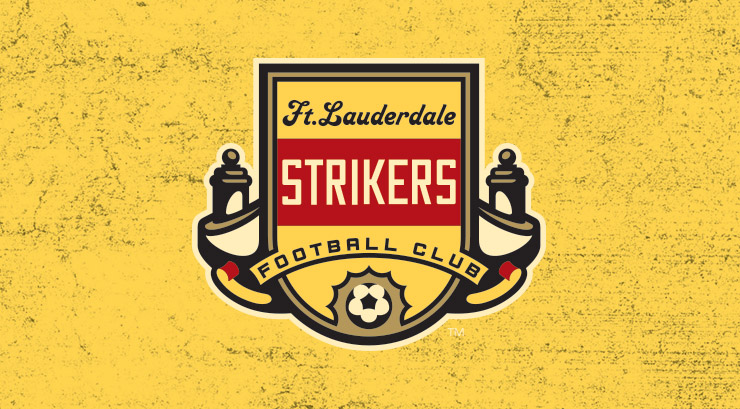 The Fort Lauderdale Strikers would like to thank our Partners for their support of professional soccer in South Florida and for the tremendous effort on their behalf to support all the local community events the Strikers take part in. Please visit our sponsors. To learn more about sponsorship opportunities and partnering with the Strikers please e-mail Sam Ambrose at: sambrose@strikers.com
Azul
Azul Brazilian Airlines is the airline with the greatest number of destinations served in Brazil. The company has a fleet of 143 aircraft, more than 10,000 employees, over 900 departures per day, 100+ destinations being served, and one-third of all the departures in the country. The quality of its services has been proven by many national and international awards. In 2014 Azul was named by Skytrax World Airline Awards, for the fourth time in a row, as the "Best low-cost airline in South America." The company also received the FlightStats Award as the "Airline with best on-time performance in South America", and was recognized as the most on-time airline in Brazil in 2014, according to Infraero criteria. That same year, the company was named the "Best low-cost carrier in the world" by CAPA Centre for Aviation. For more information visit www.voeazul.com.br.
NERGIA
NERGIA pronounced ("En-Er-Gia") was created for health-conscious men and women that need a natural boost. If you have a hectic day ahead or if you need to prepare for challenges, hard work or going to the gym, NERGIA will give you the extra boost to power through the day. NERGIA has under 20 calories per serving and is made without artificial sweeteners and preservatives. To learn more, please visit www.NERGIA.com.
Publix
Publix is privately owned and operated by its 175,000 employees, with 2014 sales of $30.6 billion. Currently Publix has 1,102 stores in Florida, Georgia, South Carolina, Alabama, Tennessee and North Carolina. The company has been named one of FORTUNE's "100 Best Companies to Work For in America" for 18 consecutive years. In addition, Publix's dedication to superior quality and customer service is recognized as tops in the grocery business, most recently by an American Customer Satisfaction Index survey. For more information, visit the company's website, www.publix.com.
Stonegate Bank
Stonegate Bank is a full-service commercial bank, providing a wide range of business and consumer financial products and services through its 21 banking offices in its target marketplaces of South and West Florida, which are comprised primarily of Broward, Charlotte, Collier, Hillsborough, Lee, Miami-Dade, Palm Beach and Sarasota Counties in Florida. Stonegate's principal executive office and mailing address is 400 North Federal Highway, Pompano Beach, Florida 33062 and its telephone number is (954) 315-5500. For more information about Stonegate Bank, visit www.stonegatebank.com.
New York Life
New York Life Insurance Company, a Fortune 100 company founded in 1845, is the largest mutual life insurance company in the United States* and one of the largest life insurers in the world. New York Life has the highest possible financial strength ratings currently awarded to any life insurer from all four of the major credit rating agencies: A.M. Best (A++), Fitch (AAA), Moody's Investors Service (Aaa), Standard & Poor's & (AA+).** Headquartered in New York City, New York Life's family of companies offers life insurance, retirement income, investments and long-term care insurance. New York Life Investments*** provides institutional asset management and retirement plan services. Other New York Life affiliates provide an array of securities products and services, as well as retail mutual funds. Please visit New York Life's website at www.newyorklife.com for more information.
Chick-fil-A
Atlanta-based Chick-fil-A, Inc. is a family owned and privately held restaurant company devoted to serving the local communities in which franchised restaurants operate. Known for its original chicken sandwich, Chick-fil-A restaurants serve freshly prepared food in more than 1,900 restaurants in 41 states and Washington, D.C. Founded in the early 1960s by S. Truett Cathy, the Chick-fil-A system produced sales of nearly $6 billion in 2014, which marks 47 consecutive years of sales growth. Chick-fil-A ranked first for customer satisfaction in the Limited Service Restaurants industry according to the 2015 American Customer Satisfaction Index and received the highest ACSI score ever in the industry. The company was recognized in 2014 as one of America's "Top 20 Most Admired Brands" by The Harris Poll, "Top Fast Food Chicken Chain" by Consumer Reports and the only restaurant named to 24/7 Wall Street's "Customer Service Hall of Fame." More information on Chick-fil-A is available on the chain's website located at www.chick-fil-a.com.
Greater Fort Lauderdale Convention & Visitors Bureau
The Greater Fort Lauderdale Convention and Visitor Bureau's mission is to promote travel and drive visitation to and within Greater Fort Lauderdale. The mission of the GFLCVB, as the hospitality leader, is to market the area globally as a premier, leisure, convention and business destination for the continual economic benefit of the community, including all of its municipalities. For more information please visit their website at www.sunny.org
SkyZone
Sky Zone is the world's first indoor trampoline park. We're the inventors of "fun fitness" and the makers of trampolines as far as the eye can see. We give you one of the greatest workouts ever combined with awesome, healthy fun. We've been voted the number one "out of the box" workout and the "best party ever." Experience WOW – the weightlessness of bouncing, flipping and landing in a pit filled with 10,000 foam cubes.
AutoNation
AutoNation is transforming the automotive retail industry through bold leadership. We deliver a peerless automotive retail experience through our customer-focused sales and service processes. Owning and operating 293 new vehicle franchises, which sell 35 new vehicle brands across 15 states, AutoNation is America's largest automotive retailer, with state-of-the-art operations and the ability to leverage economies of scale that benefit the customer. As an indication of our leadership position in our industry, AutoNation is a component of the S&P 500 Index. Please visit investors.autonation.com, www.autonation.com, www.autonationdrive.com, www.twitter.com/autonation, www.twitter.com/CEOMikeJackson, www.facebook.com/autonation, and www.facebook.com/CEOMikeJackson, where AutoNation discloses additional information about the Company, its business, and its results of operations.
Brenner Real Estate Group
Established in 1987, Brenner Real Estate Group is one of South Florida's most respected independent commercial real estate firms. From brokerage to asset and property management, investment sales, development and receivership services, we create solutions and maximize value for our clients in office, multi-family, industrial and retail properties.
Sawgrass Grand
In a sea of branded, cookie-cutter hotels, the new Sawgrass Grand Hotel and Suites in bustling Broward County is a breath of fresh air, embracing an independent spirit that translates into an approach to customer service that's gleefully untethered by corporate constraints. From stylish design to anticipatory service, this fresh newcomer is rewriting the book on customer service and community spirit with innovative programs, services and amenities that underscore its "customer first" ethos. Add a lively Lobby Bar, delicious Italian cuisine, a tropical pool terrace and a short hop to all the pleasures of nearby Fort Lauderdale and you've got a bright, bold addition to South Florida's hospitality landscape.
Atlantic Rehabilitation Center
Atlantic Rehabilitation Center is committed to improve the quality of life for each individual and rendering exceptional quality care in a culturally sensitive environment while having respect and trust for everyone as well as appreciating individual differences.
CMI
Serving the South Florida community for more than 20 years, CMI South is accredited by the American College of Radiology (ACR), upholding the highest standards in MRI testing. In addition to all orthopedic studies, CMI South also specializes in brain, abdomen/MRCP, TMJ, spine and head/neck MRIs. The best MRI facility in South Florida, come to CMI South - Where the Pros Go!
Hommen Orthopedic Institute
At the Hommen Orthopedic Institute (HOI) we provide the highest level of orthopedic care. My expertise is comprehensive injuries and pain of the shoulder, hip, knee and ankle. I see patients with the most complex cases, including failed prior surgeries, as well as the typical straight-forward cases.
Children's Services Council
The Children's Services Council of Broward County focus is Broward's children. Created by the voters in September, 2000 CSC provides leadership, advocacy, and funding for services for and on behalf of children. Over 100 CSC programs are delivered by "provider" agencies that have clearly defined goals and outcomes and are regularly monitored for quality and performance. The CSC funds programs that have been proven to work. On average, the CSC gets less than 2 cents of every dollar paid in property taxes, which fund a wide variety of programs designed to help children lead a healthy, safe and productive life. And that, of course, makes a difference for all residents of Broward County.
Big Chef
BIG CHEF is a health conscious company since 1999. Our products include hors d'oeuvres, canapés, entrees, salads, sandwiches, pizzas, dips, dessert and more delicious items delivered, picked up, eat in and catered. Planning a cocktail party, wedding or business meeting? If you invite 20 people or 2.000, no problem! BIG CHEF is the complete solution for your event. Come to visit us and make a tasting! www.bigchefonline.com​
Las Orquideas Restaurant
Las Orquideas Restaurant- a place where you will remember the delicious taste and warmth of the Colombian land. Colombian typical food, like Buñuelos, the famous coffee, Creole beef, chicken rice, grilled chicken breast, chicken stew, trope soup, fish fillet and more!
MIK Construction Group
MIK Construction Group is your complete source for any construction needs. With our NationWide GC program, we are able to build out locations across the United States and supply everything from the Millwork, Flooring and all your construction needs. Go to www.mikcg.com or call 954-699-7464.
GLOBUS
GLOBUS, has been the leader in professional portable electrical stimulation and other sport devices for over 20 years. With high technological and scientific competence, it offers to the market functional evaluation, electrostimulation and other sport devices for high performance coaching. To be able to propose cutting edge products, GLOBUS Italia established in 1983 its own research department, which provides scientific support to study modern solutions and technologies to create ever more innovative products. In 2006 Globus established offices in the USA.
Pest Logic
Pest Logic pest control is the official Pest control company of the Fort Lauderdale Strikers. Pest Logic is a full service company providing Pest Control, Rodent Control, Termite treatments, wildlife trapping, Lawn spray, and Lawn fertilization services in the tri-county area for the last 38 years.
Soccer Max
Soccer Max, the leading soccer store in South Florida, is your prime source for soccer equipment, the best brands, & more! They are the official merchandise retailer of the Fort Lauderdale Strikers.
Woodbury & Associates Photography
Woodbury & Associates Photography, is an award winning commercial photography studio serving South Florida and Corporate Photography clients worldwide. We have been providing our clients with amazing photography with expedient turn around times for over 35 years, with eighteen years experience in digital photography and post production.
Fort Lauderdale's Parks and Rec
Did you know the City of Fort Lauderdale's Parks and Recreation offers a wonderful and exciting variety of recreational programs and activities? The City of Fort Lauderdale encourages our citizens and visitors to celebrate healthy, active lifestyles by participating in their choice of recreational and park activities.
Dancer's Gallery
Dancer's Gallery has been providing dance classes for over 18 years! Whether you want to learn Tap, Ballet, Hip Hop, Belly Dancing, Classical or any of the other types of dancing we teach, you can learn it here. We provide dance instruction for students of all ages, and we offer classes seven days a week. Our teachers have been carefully selected based on education, training, and experience.
FSSA
The Florida State Soccer Association is the official governing body representing U.S. Soccer in the State of Florida. It is a representative body composed of soccer officials throughout the State dedicated to act in the best interests of the sport. This is the official web site for FSSA and it is designed to make players, officials, and fans familiar with everything that is going on regarding soccer in The Sunshine State.
FYSA
The FYSA provides a fun, safe and healthy game for kids of all ages who want to play soccer. The FYSA offers programs for various levels of play, such as recreational and competitive, and now offers a program to fit the needs and interests of young soccer players with physical and/or mental disabilities called TOPSoccer.